Message from the Principal
Culler Parents and Guardians,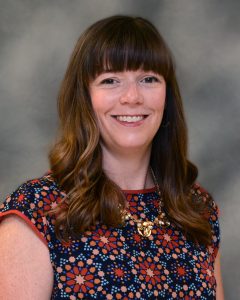 Hello! I'm Michaela Hahn and I'm excited to introduce myself as Culler's new principal. I feel extremely honored to have the opportunity to serve the Culler community. For most of my professional life, I have had the great fortune of working with students and families in Northeast Lincoln. I love the culture of pride and tradition and am beyond thrilled to get the opportunity to serve the students, parents, and teachers at Culler.
Before winter break, I had several conversations with Dr. Czapla and spent a full day at Culler, observing classrooms and meeting students during breakfast, lunch, and dismissal. The welcoming culture of caring was evident throughout the building. I was extremely impressed with the level of learning and engagement that I observed in the classrooms. Culler is an incredibly strong school and I look forward to helping continue that tradition of excellence.
Below you will find a link to a video some former and current Cougars helped me put together. Please take a few minutes to check it out!
Finally, as I continue my journey in learning all I can about Culler, feel free to contact me with any insight or questions you might have. Go Cougars!
Michaela Hahn
Principal
Culler Middle School
mhahn@lps.org
(402) 436-1210
Culler Information
We are very pleased with the hard work students have exhibited so far this school year.  I do have a few reminders and some calendar events to pass on:
Did you know that we currently have

149 students

in our ELL program?
The first languages of our ELL students include: Arabic, Chaldean, Chin-Zomi, Ewe, Farsi, French, Hindi, Japanese, Karen, Kurdish, Mandarin, Palauan, Pashto, Portuguese, Spanish, Tagalog, Ukrainian, Vietnamese

(18 languages)

Home Languages (of all students, not just those in ELL)

Amharic, Arabic, Bosnian, Chladean, Chin-Zomi, Creole, English, Ewe, Farsi, French, Hindi, Japanese, Karen, Kurdish, Mandarin, Nuer, Palauan, Pashto, Persian, Portuguese, Spanish, Swahili, Tagalog, Ukrainian, Vietnamese

(25 languages) 

Birth Country (of all students, not just those in ELL)

Afghanistan, Brazil, Burkina Faso, Burma, Cameroon, China, Congo, Cuba, Egypt, El Salvador, Gabon, Germany, Ghana, Guam, Guatemala, Honduras, India, Iraq, Israel, Jordan, Kenya, Libyan Arab Am., Mexico, Myanmar, Nigeria, Palau, Philippines, Saudi Arabia, Spain, Sudan, Syrian Arab Republic, Thailand, Ukraine, United States, Vietnam, Zambia  

(36 countries)

That means 38% of our student body

learned a language other than English for their first language.

Immediately following the conferences, there was a

 LPS Strategic Planning meeting in the Culler Media Center. 

We need Culler Parents to share their thoughts, hope and dreams for Lincoln Public Schools with our school board so please take time to fill out the survey. Thank you for your support.

Thanks so much for the Culler flag donation to the Cross Country and Track teams. We are proud of our runners and the way they represent!
I would also like to remind families about our Before/After School procedures.  Campus does not open until 7:30 am.  For the safety of all of our students, we ask that students are not arriving at school until 7:30 am for those who eat breakfast.  The after school dismissal bell rings at 3:00 pm. All students need to be picked up, walking home, at practice, or at CLC before 3:15 pm.
Traffic Flow Diagram
Mission
Culler Middle School is a professional learning community with a tradition of service, a culture of collaboration, and a commitment to student learning.